What is a Softswitch and how is it classified?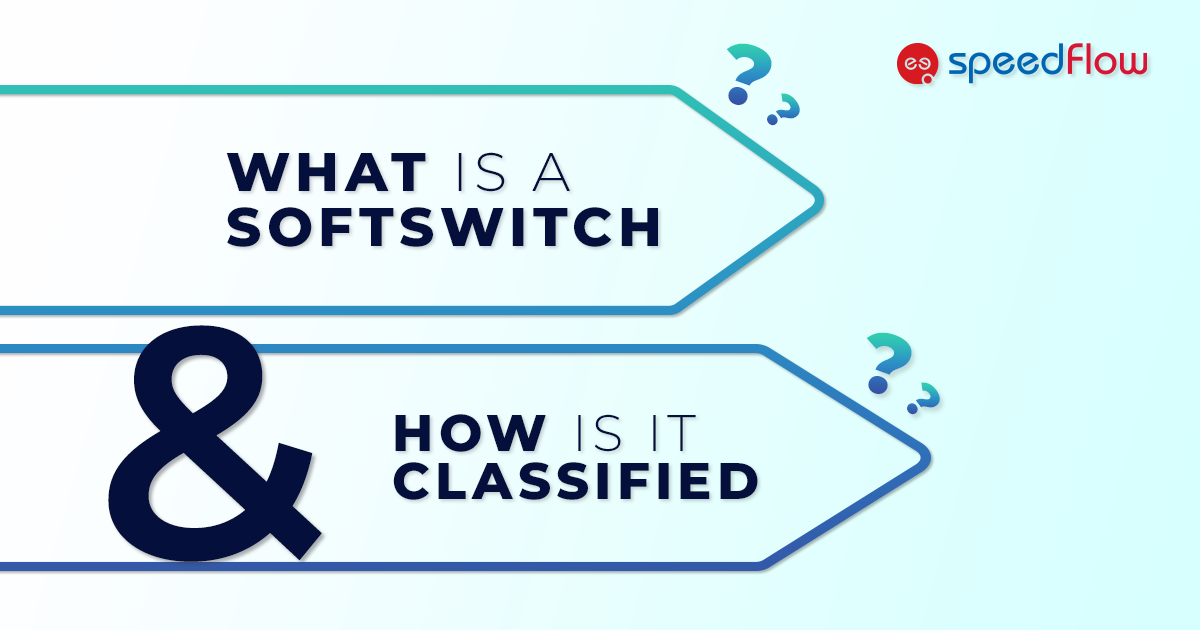 What is a Softswitch in the Telecom industry? Softswitch is the acronym of Software Switch, and it is used in VoIP core networks to control calls and process media streams. It can route VoIP calls & traffic across carriers and enable services such as switching elements, VoIP billing, directory services, network signaling, etc. It is safe to state that a Softswitch is the backbone of all VoIP communications. 
Most VoIP service providers offer class 4 and 5 Softswitch to route calls over different networks. However, both classes are different in terms of features and their working areas, and the choice is vital when choosing a VoIP development service.
What is Class 4 Softswitch?
When routing IP-IP calls to long-distance international locations using an IP network, class 4 is used. A call initiated from a class 5  in one location is transferred to the Class 4 Softswitch of the retail VoIP provider and then connected to the class 5 Softswitch at the other location. Class 4 Softswitch offers fewer features than class 5 Softswitch.
Concurrent calls

Protocol support & conversion

Intelligent calls routing

Secured firewall

Easy to use and simple interface
What is Class 5 Softswitch?
All in all, a Class 5 Softswitch is routing large volumes of calls within a city, town, state, or country. Evidently, VoIP providers, cell phone carriers, and PSTN carriers are used to connect VoIP-enabled devices. When making a call from your device, the call is connected to your provider's Softswitch, and then the call is routed to the correct IP address, SIP address, and DID number.
Auto-attendant

call forwarding

the call rules (find me/follow me/DND)

call transfer

the call waiting

caller ID

conference calling

E-911

enhanced voicemail

in-network calling music

ring/hunt groups

UCC

videoconferencing support

virtual numbers.
Differences Between Class 4 and Class 5 Softswitch
As you may have understood so far, class 4 Softswitch is for routing calls over a long distance, while class 5 Softswitch focuses more on local call routing. However, the difference doesn't end there.
Both Softswitches are different on the following key avenues:
Call Traffic Volume & Type

Functionality-wise, concurrent calls from multiple class 5 Softswitches are redirected to a single class 4 Softswitch. So, class 4 Softswitches are built to handle large volumes of calls at the same time. Class 5 Softswitch deals with smaller call traffic.
Intended Usage

As far as services are concerned, the Class 5 Switch serves as a handy retail solution. Besides, it also serves as an exchange in the PSTN, which is responsible for catering to the end-users and is located at the local telephone center. On the contrary, the Class 4 switch serves as a wholesale solution. It is a central office telephone exchange, which interconnects various local exchange carrier offices to establish communication over a long distance in PSTN.
Targeted users

Class 5 Softswitches are designed to work with both VoIP service providers and end-users. Class 4 Softswitches are made to serve wholesale VoIP solution providers, carriers, and Telco operators.
Routing Area

Class 4 can route a large number of long-distance VoIP calls across different networks and hence has a larger routing area. Class 5, on the other hand, routes SIP or IP address or a Direct Inward Dialing (DID) number of target users across a smaller area.
Based on the scale of application, there are five major classes of Softswitch:
Benefits of using Softswitch
By using Softswitches, organizations have observed the following benefits:
Scalable Solution:
Softswitches are generally easy to scale up or down, depending on the network's size, compared to regular switches. A VoIP Softswitch can be scaled with the company's growth and be upgraded with a simple download.
Accurate billing: 
Providers may adjust call rates and produce exact invoices for each of their clients using VoIP Softswitches. As a result, Softswitches free up time and resources that organizations may put toward their main activities.
VoIP carriers need to decide the ownership option that best suits their needs when it comes time to implement a Softswitch. There are three types of licenses: buyout, rental, and hosted. Analyzing which alternative is the most practical and economical is essential before beginning the implementation.
Versatile:
Routing, reporting, invoicing, and monitoring are all services that a VoIP Softswitch may accomplish. Softswitches may be integrated with other software to help businesses run more efficiently.
As you may have realized, there is no case of superiority when it comes to classes 4 and 5. Each is pivotal for providing seamless communication between different enterprises across the country.

However, depending on your specific line of VoIP business, the choice of a Softswitch solution that will meet your needs is not easy.
Overall, MediaCore SBC, as a Class 4 Softswitch, offers stable and secure VoIP call termination. Certainly, it is a cost-effective investment that ensures the seamless, intelligent, and efficient transmission of Voice and SMS messages. As a result, VoIP carriers will regain control of their call traffic.

We encourage telecom providers to test out MediaCore and select the best choice for their company. To learn more or to schedule a demo, get in touch with our software sales team at info@speedflow.com